<< Back
Stuart Thorp11 09 2023 at 00:00
A dramatic summer shows us the impact of Climate Change
Author: Stuart Thorp
Wow - what a summer it has been!
Sadly, we have seen the global impact of Climate Change to a level that surprised even the Climate Scientists, including wildfires in Canada, United States, Chile, Italy, Greece, Spain, Portugal, Kazakhstan and elsewhere and flooding in India, China, Italy, Turkey, Greece, Bulgaria, Germany, Austria, Hungary, Slovenia, Czech Republic, Georgia and elsewhere.
Since my first draft of this article, the sad news has broken of disastrous flooding in Libya caused by the extreme precipitation from storm Daniel.
Note that scientists do not generally attribute individual extreme weather events to climate change, rather Climate Change leads to an increased probability of such events occurring. However, these extreme events also correlate to record average temperatures - a link that I think we are all starting to understand.
Weather in Belgium and Italy
This article is targeted at PMI members in Belgium and Northern Italy - so I'll look further at the impact in these countries.
As I write this article, the temperature in Belgium is 31 Celsius and we are facing the first recorded September heatwave in Belgium.
This is due to "heat dome" flanked by two strong storms. Whilst much of Europe has again been facing high temperatures, Spain and Greece have been deluged because of heavy precipitations.
Before this latest heatwave, during July and August, in Belgium we experienced a Summer with little sun and lots of rain - of course disappointing for students, school-children and their families wanting to enjoy their summer holidays.
In this same period, Italy has been continuing to face extreme heat and again drought and flooding.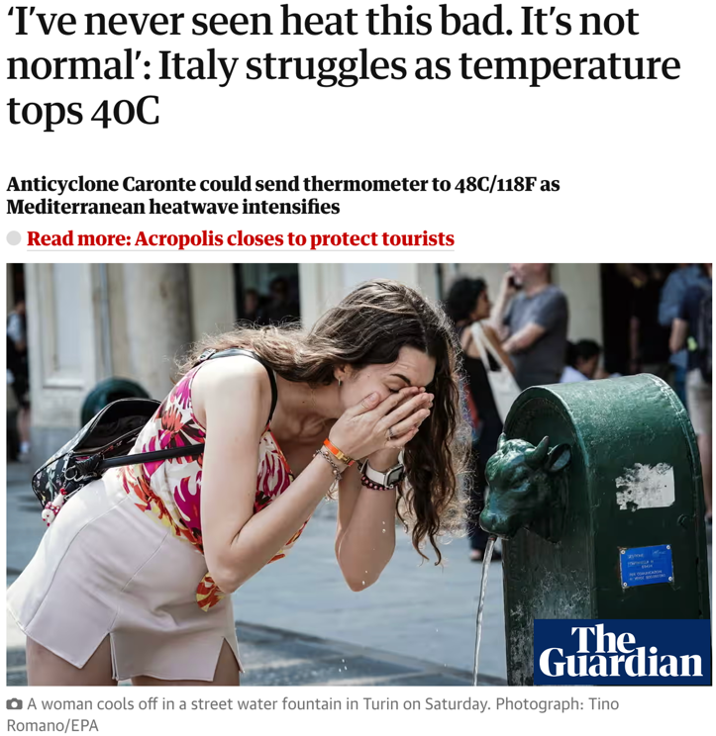 Italian climatologist Luca Mercalli describes Italy as 'one of the most fragile places in the world' after recent storms, wildfires and glacier collapse.